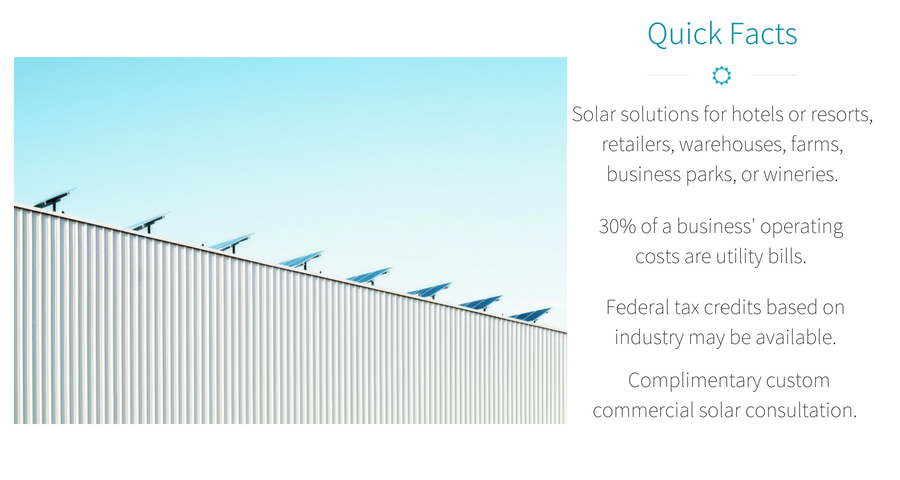 TAMPA COMMERCIAL & INDUSTRIAL SOLAR SOLUTIONS
Reduce Your Company's Carbon Footprint by Going Solar
Not only has All Solar Power helped Tampa Bay residence save money and the environment for over 30 years, but they help businesses decrease their carbon footprints by implementing solar solutions.
Whether you are a Tampa hotel or resort, retailer, warehouse, farm, business park, or winery, we have a solution for all your solar commercial needs. Our team has the ability to turn your place of business into a solar powerhouse. Not to mention, reduce electricity and save you money.
In fact, a study conducted by the Rocky Mountain Institute reflects 30% of a business' operating costs are utility bills.
Some states such as Florida, offer federal tax credits based on the industry for the cost of a solar system, helping businesses pay to invest in clean, sustainable energy. Tampa is also considered a "solar builders," city and positioned for huge potential in the next couple of years. Your commercial property can turn the power of the sun into a money-saving solar solution and reduce your company's carbon footprint on the environment.
If you're Tampa commercial or industrial property is ready to go green with solar solutions, contact us to schedule a complimentary custom commercial solar consultation.