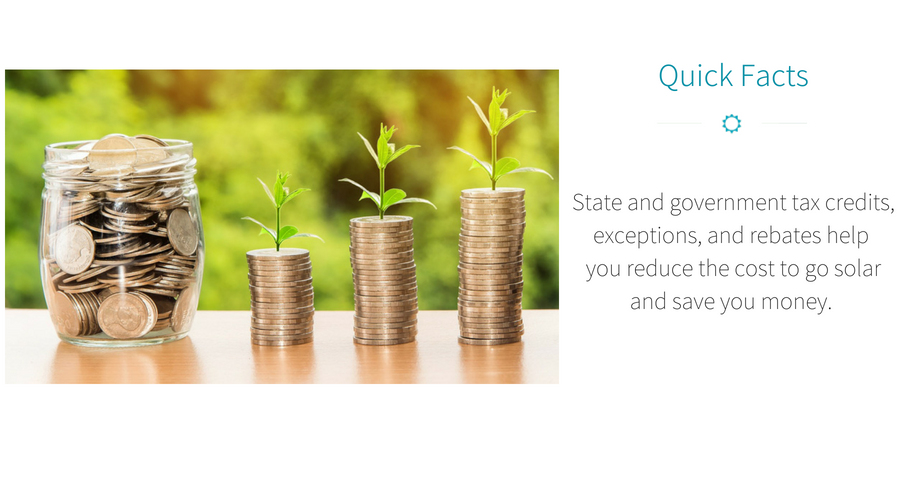 Tampa, Florida Tax Incentives
Why it Pays to Go Solar in Tampa
Although Florida is known as the "Sunshine State" and ranks 3rd in the country for the ideal solar climate, it falls to the 14th State for solar installations.
Florida offers tax incentives and rebates for solar power system installation. In fact, solar systems have been exempted from Florida sales and use tax since 1997.
In Florida, 'solar energy system' qualify as equipment and requisite hardware that provide and are used for collecting, transferring, converting, storing or using incidental solar energy for water heating, space heating and cooling, or other applications that would otherwise require the use of a conventional source of energy such as petroleum products, natural gas, manufactured gas or electricity.
Florida Programs to Help You Go Solar
Florida Net Metering
Most electric companies will pay or give you credit for producing energy and an incentive to reduce carbon footprints. Credits work when your solar system produces energy your home does not use immediately. Net Metering allows you to sell your excess energy back to the grid.
Federal Solar Tax Credit
In addition to Florida's net metering credits and tax exemptions to help you go solar, the Federal government gives you yet another huge incentive known as the Investment Tax Credit (ITC).
Although you must have enough income for the ITC rebate to see a difference, it subtracts almost a third the cost of your solar energy system as a credit on your income tax. Also, the ITC rebate applies to PV panels that are bought through a cash purchase or through a solar loan.
Property Tax Exemption
With the Florida Property Tax Exclusion for Residential Renewable Energy Property, installation of your solar system will not increase your property tax, unlike building an addition(s) to your Tampa home.
Sales Tax Exemption:
Unlike everything else you buy, there is no sales tax when you purchase a solar system due to the Solar and CHP Sales Tax Exemption incentive.
With all these programs available to Tampa homeowners, there's no reason not to go solar.