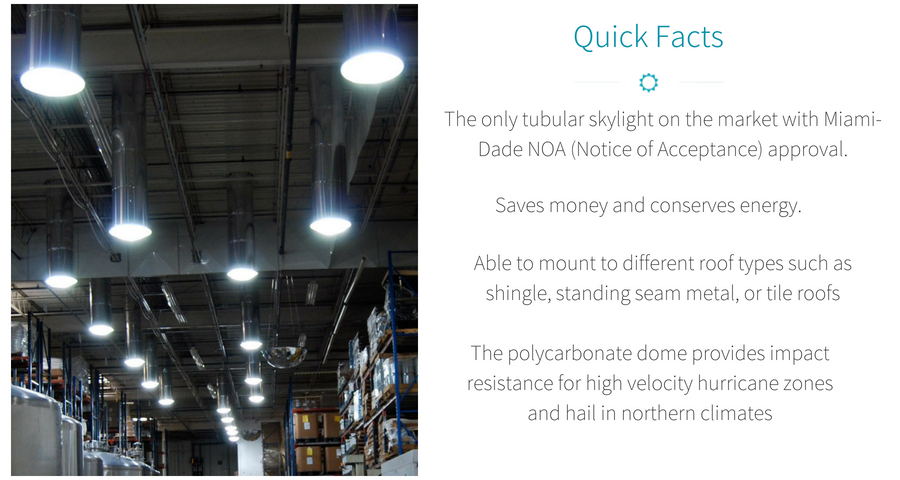 TAMPA TUBULAR DAYLIGHTING SYSTEMS
Go Natural with Tubular Daylighting for Tampa Commercial, Industrial, or Residential Properties
Sun-Dome® by All Solar Power
Studies show natural daylighting has long-term effects on overall health and wellness for humans, animals, and plants.
In fact, daylighting in the workplace has demonstrated to improve attendance, attitude, and productivity.
Even in retail stores, customers tend to spend more money with daylighting compared to traditional indoor lighting.
Whether a Tampa homeowner or a business owner, we are all doing what we can to minimize our carbon footprints by consuming less electricity and going green.
One of the best ways to do both is by installing Sun-Dome® by All Solar   Power Tampa tubular daylighting systems.
Unlike other flashings in the market that are composite and claim to be universal, Sun-Dome® tailor-makes flashings that are specific to the roof slope for your home or business and fit-like-a-glove.  Aluminum is used for a perfect seal and added strength that can be used in any climate for any style of roof types such as asphalt shingle, slate, tile, EPDM (ethylene propylene diene terpolymer), or metal and will not change the structure of the roof, no matter if it's home or business.
The Sun-Dome® by All Solar Power High-Performance Daylighting Systems benefits include:
Save money and conserve energy
The only tubular skylight on the market with Miami-Dade NOA (Notice of Acceptance) approval
10″ Sun-Dome® Illuminates 150-200 sq. ft…perfect for bathrooms or a utility room
The polycarbonate dome provides impact resistance for high-velocity hurricane zones and hail in northern climates
Aluminum flashings are fabricated to accommodate different pitch roof applications
Able to mount to different roof types such as shingle, standing seam metal, or tile roofs
48″ of highly reflective tubing transfers daylight into interior spaces
A pair of adjustable elbows offers maneuverability to easily maneuver around roof trusses or HVAC ducts
Ceiling level diffusers lenses available in different finishes distribute the daylight evenly and efficiently throughout the room
Utilizes multiple gaskets and seals throughout the system to ensure an airtight seal, which delivers daylight without heat gain or loss through the system