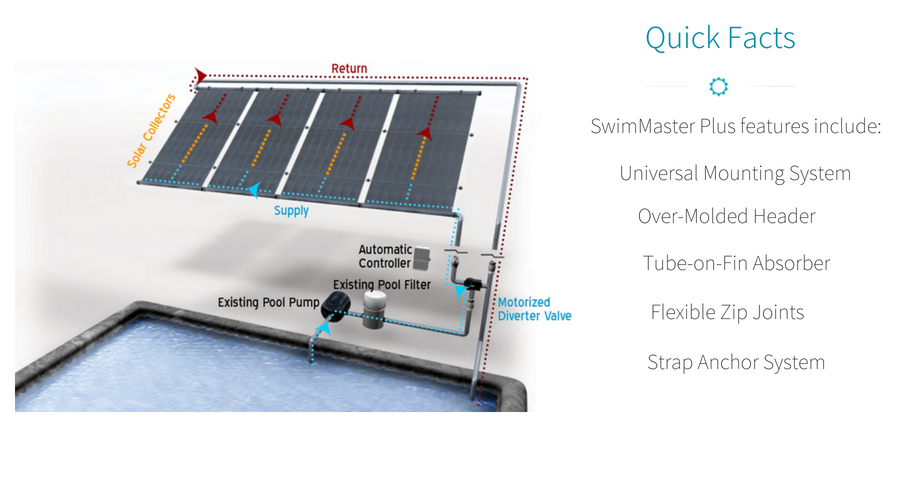 Tampa Solar Pool Heating System Repair and Installation
Lower your Electric Bill with a Solar Pool Heating System
The pool. A place for entertaining, hosting family gatherings, and providing endless water activities for the kiddos. The pool is also a large added value to a property that consumes high electricity, but it doesn't have to.
Over 30 decades ago, a blend of materials was developed for construction of cost-effective and long-lasting solar pool panels. Throughout the years, several variations of the solar panel design have been applied and improved upon.
Tampa All Solar Power solar pool heating system absorbs free energy from the sun to heat your pool. In addition to doubling your swim season, it can save you two to three times more money than having an electric, natural gas, or propane pool heater because your pool will be heated with 100% renewable energy.
In addition, the Full-Flow titanium heat exchanger is unsurpassed in its performance and longevity. Full Flow means all the water processed from your pool pump is sent through the exchanger. This helps to make your water reach its specific water temperature. It has a whisper-quiet fan motor, which can move large volumes of air with little effort. In addition, the user-friendly digital smart control allows easy access to the dual thermostat to control the spa or pool.
HOW SOLAR PANELS FOR HEATING SYSTEMS WORK
Set the temperature of the pool on your automatic controller and the sun will do the rest. The auto control will sense when there is enough solar energy to heat the pool. The sun's energy will heat the water as it flows through each panel. The heated water will then flow back to into your pool. This cycle will continue until the desired pool temperature is reached.
Remember, heat from the sun is always organic, renewable, and environmentally friendly. Depending on what you currently pay to heat your pool and/or spa, your Tampa solar pool heater investment may pay for itself in just a few years.
All Solar Power uses SwimMaster Plus as our choice for superior quality solar pool and was the first solar pool panel to create the strongest and longest collectors in the industry; built to be compliant with home construction standards.