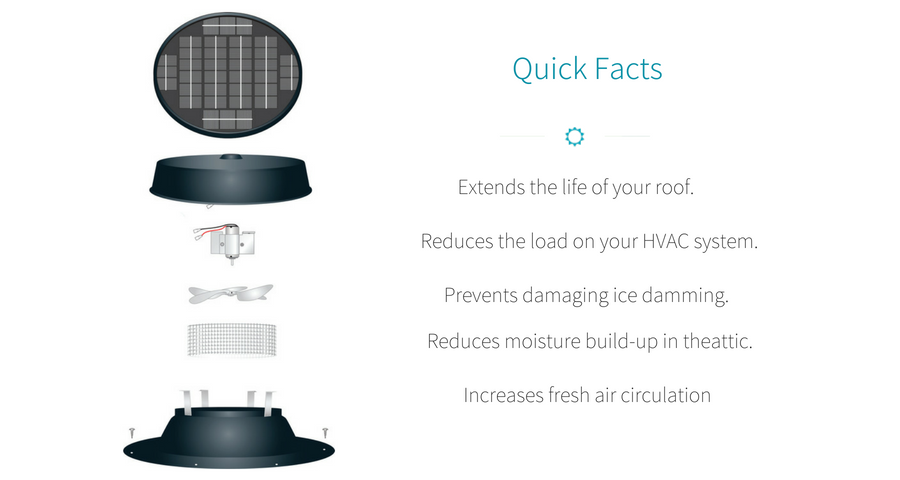 TAMPA SOLAR ATTIC FANS
Extend the Life of Your Roof and Increase Fresh Air with Solar Attic Fans
Why do you need to install a solar attic fan in your Tampa home? Let's count the reasons…
It extends the life of your roof by reducing heat build-up that effects shingles and the overall condition of the roof.
Tampa solar attic fans also reduce the temperature of your HVAC system by up to 40 degrees, shortening the runtime and extending the AC unit.
They also reduce moisture build-up that causes soggy insulation, wood rot, rust on metal, and significant damage to items stored in your attic.
Lastly, solar attic fans increase fresh air circulation to help prevent nasty mold, mildew, and fungus on attic surfaces and generates clean air.
Tampa solar Attic Fans are engineered with durable, resistant, and expert-made material:
Solid solar panels to withstand hurricane and tornado winds.
Seamless commercial-grade aluminum hood, which is powder-coated inside and out to provide extra durability.
The 24-watt model's solar panel can be detached and replaced without having to replace the entire fan unit.
A quiet motor operating system is made possible with a motor isolation bracket.
5-blade balanced aluminum fan.
Stainless steel wire screen keeps out critters and debris.