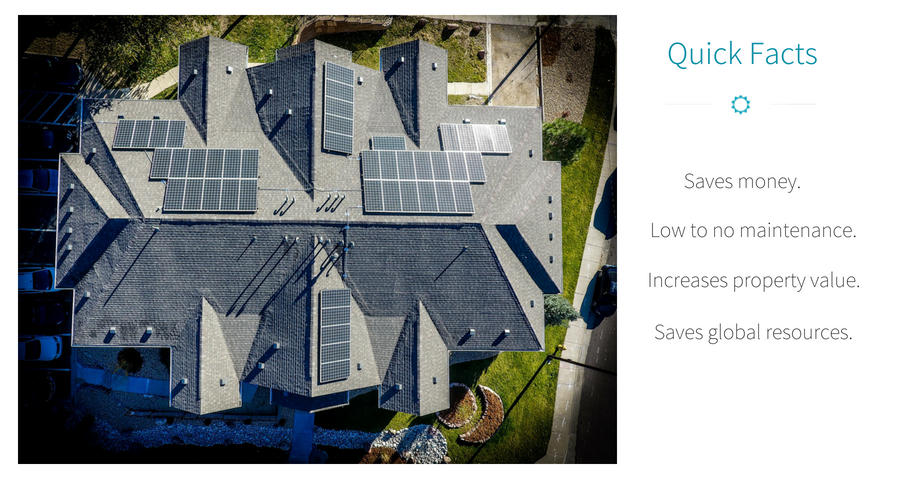 TAMPA SOLAR SOLUTIONS
Save Money, Increase Your Property's Value, and Save Global Resources
Although there are endless reasons why millions of smart homeowners decide to go solar each day in Tampa, we like to think there are four simple and sold motivators.
SAVES Money – Tampa solar power offers you long-term savings of up to a third on your utility bills, enabling you to save thousands of dollars over time. In addition, Tampa, Florida solar tax incentives help you save beyond your electric bill.
Low to No Maintenance – Solar panels typically last 25-30 years and have few, if any, moving parts. Once we install your PV panels, there is very little ongoing solar system maintenance required.
Increases Your Property's Value – Many solar power users who have purchased their PV panels have been able to increase the value of their homes sometimes by over 100% of the cost to install them. To calculate how much of an increase, take a 5-kilowatt solar system, which is the national average, that will provide 5,000 watts of power. Industry experts say each watt of solar adds about $3 to a home's value (5,000 x $3=$15,000). The more watts, the more value is added to your home.
Saves Our Global Resources – Millions of people feel obligated to go solar because of the benefits to the environment. Unlike traditional means of energy, solar power does not pollute the planet's atmosphere with fossil fuel and harmful contaminants.